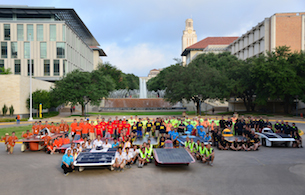 We are pleased to announce that the July 2014 American Solar Challenge is going to be an 8 day 1700+ mile road course traveling through 7 states from Austin, TX to Minneapolis, MN. We are also excited that Formula Sun Grand Prix (FSGP 2014) Powered by Austin Energy will be returning to the Circuit of The Americas in Austin, TX! COTA provided excellent facilities and served as a great host for FSGP 2013. We are looking forward to working with them again and allowing even more teams to experience this awesome Formula 1 racetrack. Whether you get involved as a participant, volunteer, sponsor, or bystander, this event offers a great opportunity to learn about and enhance the world of solar car racing. We hope you'll join us as cars embark on this long journey "Solaring Up the Midwest".
Official Event Information
ASC 2014 Stage 4 Winners & Results
University of Michigan
University of Minnesota
Iowa State: PrISUm
Last updated 7-28-14 – 1:30AM CST. Times given as hh:mm:ss.
ASC 2014 Stage 3 Winners & Results
University of Michigan
University of Minnesota
Polytechnique Montreal: Esteban
Last updated 7-25-14 – 11:15PM CST. Times given as hh:mm:ss.
ASC 2014 Stage 2 Winners & Results
University of Michigan
University of Minnesota
Iowa State: PrISUm
Last updated 7-24-14 – 11:30PM CST. Times given as hh:mm:ss.
ASC 2014 Stage 1 Winners & Results
University of Michigan
University of Minnesota
Iowa State: PrISUm
** Team has obtained provisional qualification for the American Solar Challenge
Last updated 7-23-14 – 12:30AM CST. Times given as hh:mm:ss.
FSGP 2014 Overall Winners & Results
University of Michigan – 174 laps (596 mi)
Oregon State – 124 laps (425 mi)
University of Minnesota & Western Michigan University Tie – 110 laps (377 mi)
Fastest Lap: Iowa State: PrISUm (4 min 35.285 sec)
* Team has not passed Scrutineering – see the team status page for more info
** Team has obtained provisional qualification for the American Solar Challenge
| | |
| --- | --- |
| Qualified for ASC | Forfeited Laps |
Last update: 7-19-2014 at 11:15PM CST
American Solar Challenge Qualification Requirements
1 Day Qualification: 60 laps during day 1 or 2; 48 laps during day 3
2 Consecutive Day Qualification: 90 laps during the first 2 days; 78 laps during the second 2 days

Each driver must also complete a minimum of 15 laps to be allowed to drive on the road
Awards Given
In addition to trophies for the top three positions, the following awards were given to FSGP 2014 teams.
Fastest egress time: ETS Quebec at 3.47 seconds

Fastest lap:

 Iowa State at 4 min 35.285 sec

Fastest stop in the Dynamics brake test: SIUE
Fastest Dynamics slalom test: Illinois State
Longest time keeping Brian Call busy in Dynamics: Principia
ASC Route & Schedule Overview
The checkpoint and stage stop locations are specified below (click the links for parking lot maps). The public is invited to attend. Team arrival time at these pre-defined stops is spread out over hours between the faster and slower teams. In general teams begin arriving at checkpoints in the early afternoon and these stops close in late afternoon or early evening. Each team is only present at a checkpoint for approximately 1 hour before continuing along the race route. Stage stops usually open in the afternoon for faster teams to start arriving but all teams are present from 6:00-8:00PM for the evening solar charging session. Teams are also present the morning after each stage stop for the 7:00-9:00AM solar charing session before they head back out for another day of driving. The finish line stop will open around mid-day and teams will remain open throughout the afternoon before the start of the awards ceremony in the evening. Stay tuned to our social media feeds for up to the minute information about stage stop and checkpoint timing as well as team arrivals.
Note: The Google Map Stage Links above are for reference only and may not be completely correct. The route book is always the official source for step by step race directions. All teams that qualify for ASC 2014 will be provided with an official route book at the event.
Regulations
As always, please submit forms, fees, and reports by the deadlines specified. We will once again be giving scrutineering preference to those teams that complete their paperwork first, so earlier is better.
FSGP 2014 Qualifying Track Race Powered by Austin Energy
Austin Energy is the sponsor for FSGP 2014, which will be using the full 3.426 mile Circuit of The Americas track configuration. The track runs in a counter-clockwise direction, which includes the hill at turn 1, several S-curves, and a variety of hair pin turns around the track. Pit space will be allocated in the garages along the front straight, and there are plenty of stands for spectators to cheer on the teams.
Access hours at COTA will be 7am-11pm (with the open time adjusted the first day and the close time adjusted the last day).
COTA will not allow camping or staying on-site overnight. There are many hotels 15-20 minutes away near the airport. Area campgrounds or staying with friends/family/alumni are other options. Each team is responsible for making their own lodging accommodations.
Each garage bay will be shared between 2 teams.
Pop-up tents may be used during FSGP race days in the cold pit area.  All pop-up tents must be free standing; no stakes are allowed.
Given the size of the track, teams need to ensure adequate radio communication coverage for drivers and appropriate telemetry systems for monitoring the solar cars.
FSGP 2014 Schedule
Mon, July 14-Wed, Jul 16: Registration & Scrutineering
Thu, July 17-Sat, Jul 19: Formula Sun Grand Prix
FSGP 2014 Official Public Day
The 2014 Formula Sun Grand Prix solar car qualifying race at Circuit of the Americas is free and open to the public on Saturday, July 19th. Parking is free and concessions will be available for purchase. All activities will be setup in the paddock area, with the ability to see the race from the stands and participate in additional educational activities. You will also be able to walk on the paddock side of the garages and chat with the teams. The racing hours are 9am-5pm. If you come as early as 8:00AM, you can see the teams in their charging configuration. During charging, the body of the car with the solar array is pointed towards the sun revealing the chassis underneath. This can also be a great time to meet and greet with the teams as they prepare for the final day of the qualifying race. Planned activities include a model solar car workshop for kids, a demonstration by the Solar Rollers, and live broadcasting by KDRP – Sun Radio.
Rest Day (Public Viewing)
For those not familiar with our format, the Rest Day on Sunday, July 20th serves as a day to get ready for the start of ASC following the wrap up of FSGP. Activities usually include moving to the ASC start line area, recharging batteries, prepping support vehicles, and assigning team observers. This is also a day for the public to come out from noon to 4:00PM and see all the teams and cars up close before they embark on the cross country American Solar Challenge. The cars will be located at UT Austin parking lot (map).